Human Improvement was created for the improvement of humans.

The world is full of nutritional supplements claiming to be better for you but are actually harming your health. Using innovative ingredients, we make clean, functional products that are formulated to actually help humans improve.

We started with protein powder because protein plays an integral role in the creation and maintenance of every cell in our bodies. It fuels all of our essential functions and protein powder is where we saw the most acute problem.

The most popular protein powder flavors are things like Swedish Fish and Sour Patch kids mixed with god knows what artificial ingredients, gums, fillers, and added sugars. Protein powder also hasn't seen any ingredient innovation in decades with the vast majority using the same two sources, whey and pea protein while incorrectly making it seem like its just for weightlifters and putting on bulk

So we decided to throw out the playbook to create the first protein formulated for lean muscle, not bulk by utilizing the cleanest, easiest to digest ingredients on the market. A first-of-its-kind blend of protein sources and functional superfoods. A product created for the improvement of humans.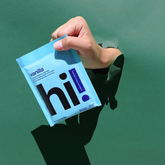 01
Better ingredients
We used just 13 simple, nutrient packed ingredients and did away with the gums, fillers and added sugars that are in many other protein powders.
02
Better taste
We chose each ingredient to create naturally delicious flavors with smooth textures. Light and refreshing, never overly sweet or chalky.
03
Better for your gut
The first protein powder specifically designed to not cause bloating. Our protein blends combine the benefits of prebiotics and plant fiber to support gut health and easy digestion.
04
Better for the planet
A forgotten superfood that's one of the most nutrient dense, easy to digest, and sustainable sources of protein in the world, cricket protein. Learn more here.
100% money-back guarantee
If you don't love it, we'll refund your full order.
Click below to see what people are saying.